World-Class pest control services tailored specifically to your needs.
Removing Bed Bugs in the South Texas Region
Bed bugs are one of the most invasive pests to have, and they are one of the hardest to get rid of. This is one pest that you will want a professional to come in and conquer. Missing just one bed bug can cause your home to become infested all over again, as they multiply quickly and by the hundreds.
Bed bugs are a public health issue and can cause a lot of emotional stress, but trying to handle it on your own can make things much worse. Bugmobiles professionals can assess your problem and start targeting the bed bugs inside your home, easing your stress.
If you're looking for a Texas-based pest control company you can trust, call us today for a consultation and free inspection of your home:
(361) 576-2847 
or request service online and a

technician

will get back to you the same day.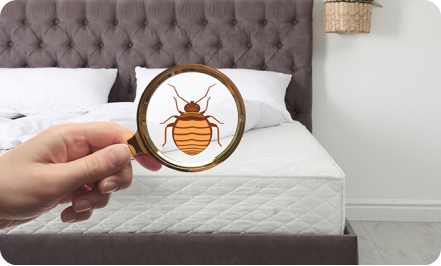 Identifying bed bugs is very difficult, as they are tiny little bugs that are often confused with ticks. They love to hide in cracks and crevices of mattresses and furniture, only coming out at night to feed upon blood. Early action is important because bed bugs can produce 3-4 eggs a day which can make the problem become very big, very fast.
If you are unsure if you have bed bugs, ask the experts at Bugmobiles for a free inspection. We can identify bed bugs and start treatment right away.
Bed bugs don't have preferences when it comes to your living conditions. You can be extremely messy or the cleanest person alive – as long as you have blood, don't be surprised if you find them in your home.
It's important to be very cautious when staying at hotels or other people's homes. Bed bugs can go unnoticed for weeks and months.  Before you know it, they are hitching a ride on your luggage, clothes, etc. back to your place. When traveling, try not to set your luggage on the bed and do a quick sweep of the room. Check the mattress and bedding for rust spots, which indicates a squashed bed bug. Should you have the impression where you're staying has bed bugs, let the management or owners know, and do not stay there.